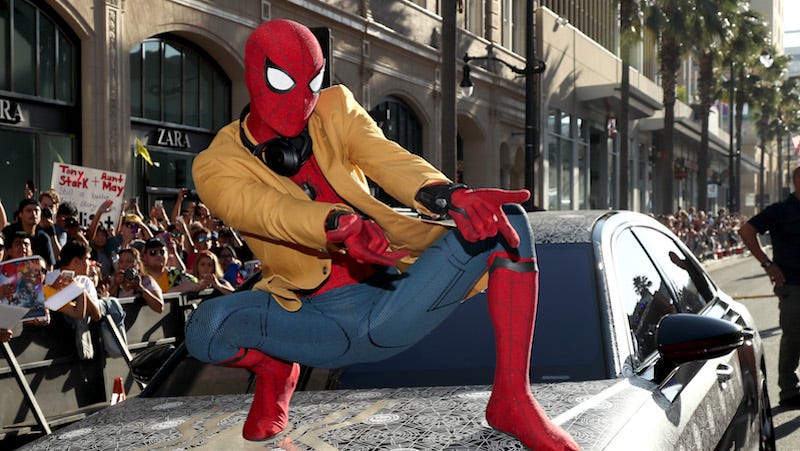 Box Office India Trade Network
SPIDER-MAN: HOMECOMING had a decent first day in India as it grossed 6.75 crore nett apprx on day one which is the third best opening for Hollywood in India this year. The best was FAST & FURIOUS 8 at 9.27 crore nett followed by XXX: RETURN OF XANDER CAGE at 7.21 crore nett.
The SPIDER-MAN brand is the second biggest Hollywood brand in India after FAST & FURIOUS but the opening of SPIDER-MAN: HOMECOMING is less than the two previous outings of the brand. In terms of all time collections the film has the tenth highest opening ever for a Hollywood release. Barring THE JUNGLE BOOK which was very much like a Hindi film all the others are big action films. The top ten Hollywood opening days (first full day) are as follows.
1. Fast & Furious 7 (2015) - 12,03,00,000
2. Avengers: Age of Ultron (2015) - 10,96,00,000
3. The Jungle Book (2016) - 10,12,00,000
4. Fast & Furious 8 (2017) - 9,27,00,000
5. Captain America: Civil War (2016) - 8,46,00,000
6. Batman v Superman: Dawn of Justice (2016) - 7,93,00,000
7. The Amazing Spider-Man 2 (2014) - 7,48,00,000
8. XXX: Return Of Xander Cage (2017) - 7,21,00,000
9. The Amazing Spider-Man 2 (2012) - 6,77,00,000
10. Spider-Man: Homecoming (2017) - 6,75,00,000 apprx
---------------------------
SPIDER-MAN: HOMECOMING had a very good second day as collections were around the 10 crore nett mark with the film showing huge growth of 50%. Hollywood releases have only reached the 10 crore nett mark in a day only ten times. Also no SPIDER-MAN film prior to this has ever grossed 10 crore nett in a single day. The collections of SPIDER-MAN: HOMECOMING are as follows
Thursday - 2,00,00,000
Friday - 6,75,00,000
Saturday - 10,00,00,000
TOTAL - 18,75,00,000
---------------------------
SPIDER-MAN: HOMECOMING has done very well in its first weekend grossing around 30 crore nett including the paid previews on Thursday. This is the highest weekend ever for a SPIDER-MAN film in India (3 Days) and the film really picked up well on Saturday. The film easily outperformed both the Hindi films MOM and GUEST IIN LONDON put together and is looking set to emerge the highest grossing SPIDER-MAN film ever in India. The weekend collections of SPIDER-MAN: HOMECOMING are as follows
Thursday - 2,00,00,000
Friday - 6,75,00,000
Saturday - 10,00,00,000
Sunday - 11,50,00,000 apprx
TOTAL - 30,25,00,000